RESEARCH DEVELOPMENT INNOVATION PROJECTS
GEMTEX has a recognized expertise to support you in your Research Development Innovation (RDI) projects, within the framework of public-private partnerships (research collaboration, CIFRE thesis …).
These collaborations can focus on the improvement of existing products through the integration of new technologies, research, design or development of new products … With an average duration of 1 to 3 years, these projects can take place within the framework of a post-doctoral mission, a thesis … and the expenses are eligible for the CIR.
ENSAIT offers you a partnership for the development of your collaborative projects at the regional, national (PSPC) and European (H2020) levels.
We intervene from the detection of funding opportunities, to the setting up of projects (engineering), in support of the negotiation of grant agreements and consortium agreements, up to the administrative and financial management of projects.
You can find some examples of collaborative projects in which we participate on the GEMTEX website.
These projects can benefit from public funding such as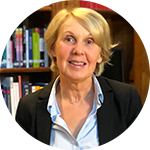 Nathalie Doumeng,
Director of External Relations