FRENCH LANGUAGE & CULTURE COURSES
As soon as you join ENSAIT as part of an exchange semester, a double degree or a project in the research laboratory, you can automatically benefit from courses in French language and French culture!

French courses
In an effort to better integrate international students, ENSAIT offers (and strongly recommends) French as a Foreign Language courses to all its non-French speaking students. French as a Foreign Language courses are offered at several levels.
ENSAIT's degree courses are taught in French, so students enrolled in one of these courses must demonstrate a minimum level of B2 of the Common European Framework of Reference for Languages (CEFR) at the beginning of their degree program. This level optimizes the chances of success of their engineering curriculum and enables them to fulfil the language requirements of the Commission des Titres d'Ingénieur (CTI). In addition to this prerequisite level, international students follow FLE courses at ENSAIT throughout their studies. Particular attention is paid to written and oral production.
They are therefore expected to progress from the beginner to the advanced independent user level, they must be able to:
– Characterize, comment, give their opinion, express nuances, interact, reformulate, structure their speech, express thoughts and feelings in an objective and subjective way
For non-degree courses (exchange semesters or years, laboratory projects, etc.) where non-linguistic subjects are taught in English, the objectives of French as a foreign Language courses are more practical and cultural. Learners are introduced to the basics of the language for everyday life – or in more depth, depending on their starting level – and the customs/particularities of life in France are presented to them. Students should be able to:
– Introduce themselves and someone else, approach someone, describe a person or a situation, tell and ask for the time, make an acquaintance, make a purchase, congratulate/thank you, make an appointment, situate in space and time, use of politeness formulas.


For students who have not yet fully reached the B2 level at the time of enrolment at ENSAIT (before the summer), ENSAIT encourages students to enrol in the summer courses offered by the International Academy International Academy | The Summer University for International Students in Hauts-de-France (international-academy.fr)
ENSAIT may cover the cost of these summer courses at the International Academy if the application is of a merit nature. Applications can be made to the International Relations Department.
French Culture - What makes the French so French ?
The course aims to give some cultural keys concerning the culture (way of life, society, gastronomy, politics, religion…), main historical events, major artistic tendencies, thoughts, fundamental symbols (concrete or abstract) representing French memory. The goal is to give some keys to help the students understand the current French society and integrate better.
We will first start with stereotypes to then mainly focus on heritage, culture and some important dates and facts and see how they continue in many different ways influencing the contemporary reality. Students will have the opportunity to get out of the classroom for:
A visit of the Old Lille and its main historical places
An apprentice chef's experience on French cuisine (no prerequisite skills needed).
A French buffet tasting cooked by the French students of ENSAIT
Cooking and tasting an international buffet to discover flavors from all over the world, and share the savors of your country
The discovery of French culture by being accompanied by a member of the ENSAIT community.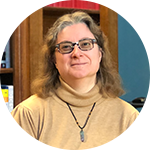 Marie Hombert