ENSAIT SUPPORTS ITS STUDENTS
From their integration to their graduation, ENSAIT's services accompany students in their reflection on their path towards the professional world. For three years, students will have the support of staff and students specifically trained to guide them. 
How do I find a place to live?
With the help of the student office
Each year, ENSAIT students designate a student housing referent. His/her role is to help students find accommodation :
during oral exams
during open days
at the beginning of the school year
This student referent also assists applicants by sharing advertisements or good deals!
With the help of the CROUS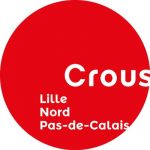 The main role of CROUS is to improve the living conditions of students, notably by offering assistance to students in their daily life to facilitate the success of their studies. CROUS is particularly known for finding housing for students. 
Several dining areas and various facilities are available to students within the facility:
Health, safety and disability
For your medical appointments
You wish to have a preventive examination? Do you need advice about your health, update a vaccination, obtain a medical certificate, adapt your studies in relation to a disability, or consult for any medical, gynecological, psychological, dietary or social question or problem? The multidisciplinary team at SUMPPS welcomes you and supports you throughout your studies. Care and treatment services are provided without advance payment, upon presentation of the student's current "carte vitale" (or its certificate) and the student's mutual insurance certificate if he/she has one.
The CUPS (University Center for Health Promotion)
The University Center for Health Promotion (CUPS) which has a team of general practitioners, nurses, psychologists, social workers and marriage counselors to help students optimize their physical, mental and psychological well-being.
Free meeting with a psychologist
The Happsy Hours set up by Apsytude, in partnership with ENSAIT, are a support center to help students cope with situations of discomfort. A psychologist welcomes students at ENSAIT and assesses their situation. Together, they set goals and the psychologist helps the students to reach them.
Students come for any type of problem. For example: malaise, stress, self-confidence, depression, orientation, sleep, addictions, etc.
At ENSAIT, the office hours are held every other Thursday from 2pm to 5pm. You can come with or without an appointment, depending on the availability of the day. 
Nightline is the only French listening service entirely dedicated to students.
Our volunteers, who are also students, offer a caring environment where young people can speak out anonymously.
They offer a safe environment to talk about everything and anything. Trained in active listening, they adopt a neutral posture.
Students with disabilities
The offices of student life with disabilities (BVEH) welcome and support students with physical, sensory or psychological disabilities, dyslexia or a long-term disabling health problem.
It is very important to inform the BVEH as soon as possible so that study and exam accommodations can be made as soon as possible. The BVEH teams will accompany you, guide you and advise you on how best to adapt your studies and find solutions adapted to your situation. Deadlines do not apply to temporary disabilities and proven emergencies.
ENSAIT places the quality of its extracurricular life at the heart of its integration process.
In addition to its student office, the school has many clubs and associations. A wide range of activities are offered: dance, sports, photography, cooking, travel, solidarity… 
These meetings reinforce the spirit of cohesion and sharing. They encourage links between students throughout the curriculum!