ENSAIT SUPPORTS ITS STUDENTS
From their integration to their graduation, ENSAIT's services accompany students in their reflection on their path towards the professional world. For three years, students will have the support of staff and students specifically trained to guide them. 
Finding accommodation with the BDE
Each year, the students of ENSAIT appoint a student housing referent. His role is to help students who come to take the oral exams from May to July to find accommodation in the North. Then, he/she accompanies these same students in their search for accommodation for the start of the new school year in September by sharing advertisements or good tips!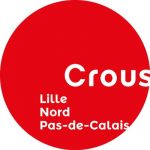 The main role of the CROUS is to improve the living conditions of students, in particular by offering assistance to students in their daily life to facilitate the success of their studies. CROUS is particularly known for finding accommodation for students.
CROUS de Roubaix
28 place de la liberté - 59100 Roubaix 
Opening days and times: Monday, Tuesday and Thursday from 9am to 12.30pm and from 1.30pm to 4.30pm. Closed at 4pm on Friday.
Visale, the guarantee that facilitates your access to housing

The Visale aid allows a visa certified by Action Logement to be put in place, constituting a proof of guarantee of unpaid rent to be attached to the rental management file. Visale replaces the former Caution Locative Étudiante (Clé) of Crous-Lokaviz, however the conditions of access and the procedures are the same. The entire process must be carried out on the dedicated Visale platform. Be careful to distinguish between Visale (a guarantee service) and the home insurance – which is compulsory and must be attached to the rental file. In addition, you can combine Visale with other traditional housing benefits such as the CAF's APL. Once these applications have been made and the lease has been signed, it is up to you to carry out the standard procedures for your accommodation, including the commissioning of water, electricity or gas meters, if applicable.
ENSAIT places the quality of its extra-curricular life at the heart of its integration process. In addition to its BDE, the school has many clubs and associations. A wide range of activities are offered: dance, sports, photography, cooking, travel, solidarity… 
These meetings reinforce the spirit of cohesion and sharing. They encourage links between students throughout the course of study!
Health, Safety and Disability
Would you like to have a preventive examination? Would you like advice on your health, to update a vaccination, to obtain a medical certificate, to adapt your studies in relation to a disability or to consult for any medical, gynaecological, psychological, dietary or social question or problem? The multidisciplinary team at SUMPPS welcomes you and supports you throughout your studies. Care and treatment services are provided without advance payment, on presentation of an up-to-date "carte vitale" (or its certificate) and a certificate of mutual insurance if the student has one.
SUMPSS
125 Boulevard d'Alsace - BP629 - 59024 - Lille cedex
Other useful addresses : 
The University Centre for Health Promotion (CUPS) which has a team of general practitioners, nurses, psychologists, social workers and marriage counsellors to enable students to optimise their physical, mental and psychological well-being.

Maison Universitaire de la Santé CUPS Lille 1 – Avenue Poincaré, Cité scientifique 59650 Villeneuve d'Ascq Cedex – Tel: 03 20 43 65 50 – Fax: 03 20 33 63 79 – cups@univ-lille1.fr

The Bureau d'Aide Psychologique Universitaire (BAPU) which has a therapeutic team of psychologists and psychiatrists with psychoanalytical training. 153 bd de la liberté in LILLE (métro république) Tel: 03 20 54 85 26
Free meetings with a psychologist
The Happsy Hours set up by Apsytude, in partnership with ENSAIT, are a support centre to help students deal with situations of malaise. A psychologist welcomes students at ENSAIT and assesses their situation. Together, they set goals and the psychologist helps the students to achieve them.
Students come for all kinds of problems. For example: malaise, stress, self-confidence, depression, orientation, sleep, addictions, etc.
At ENSAIT, the sessions are held every other Thursday from 2pm to 5pm. You can come with or without an appointment, depending on the availability of the day.
Nightline | A listening service by and for students
Nightline is the only French listening service entirely dedicated to students.
Our volunteers, who are also students, offer a caring environment in which young people can speak out anonymously.
They offer a safe environment to talk about everything and anything. Trained in active listening, they adopt a neutral stance.
Nightline Lille
Free night-time listening service for students in Lille Open every day from 9pm to 2.30am.
Students with disabilities
The offices for disabled students (BVEH) welcome and support students with physical, sensory or psychological disabilities, dyslexia or a long-term disabling health problem.
It is very important to inform the BVEH as soon as possible so that study and examination arrangements can be put in place as soon as possible. The BVEH teams will accompany you, guide you and advise you on how best to adapt your studies and find solutions adapted to your situation. The deadlines do not apply to situations of temporary disability and proven emergency.
BVEH
Bât. A3 (RDC) − Cité scientifique, Villeneuve d'Ascq
100% of the student associations take the First Aid course in the first year!
Sarah Debisschop,
Head of Student Life
Sabine Chlebicki,
Referent for the Disabled