work study program over 3 years
Are you a candidate for the ENSAIT work study program?
ENSAIT engineer by work-study program
The fields of application of textiles cover an increasingly wide spectrum. From natural fibers to artificial, synthetic, technical, intelligent and now connected fibers. In a constantly and rapidly changing environment, ENSAIT trains dynamic and versatile engineers who are familiar with the most innovative techniques and cutting-edge sectors, and who are able to provide the best advice to the textile industry.
The role of the ENSAIT engineer is to innovate, design, manufacture, and test new products, new materials, new technologies, and new processes that meet the requirements of the sector while respecting the values of the company and environmental standards. He/she is capable of managing the organizational, economic, human and technical aspects of a project. He/she knows how to choose, buy and supply in compliance with quality standards.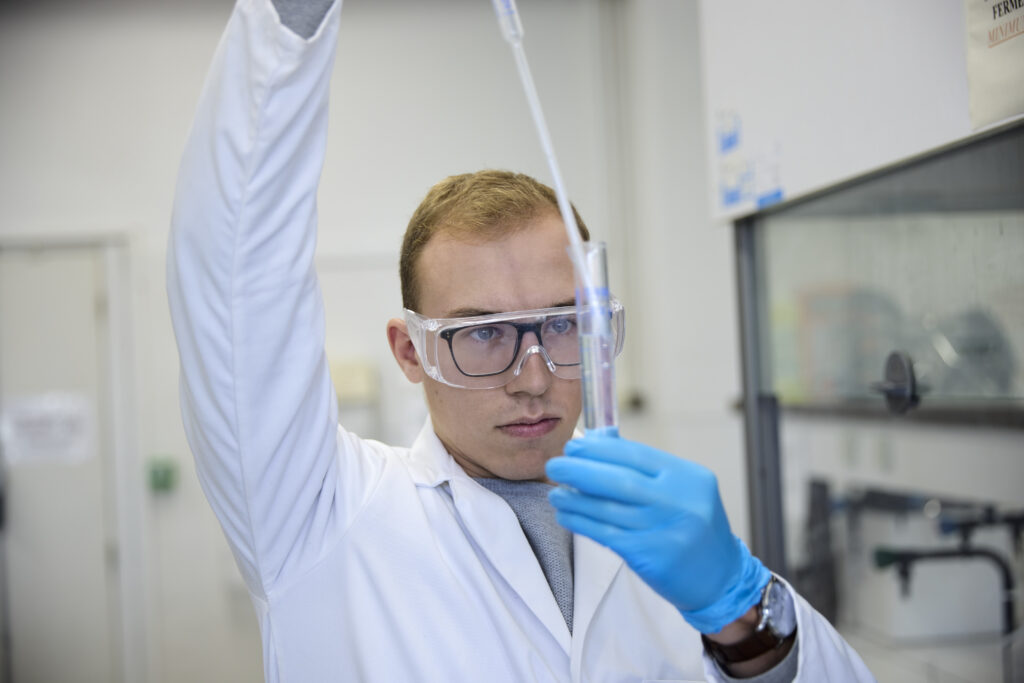 THE ADVANTAGES OF WORK-STUDY PROGRAM
It is calculated as a percentage of the minimum wage (SMIC or the SMC in France) if the latter is more favourable. It varies according to age and progression in the apprenticeship training cycle (unless the collective agreement is more favourable).
| Seniority in the contract | 18-20 years old | 21-25 years old | 26 years and older |
| --- | --- | --- | --- |
| 1st year | 43% of SMIC | 53% of SMIC* | 100% of SMIC* |
| 2nd year | 51% of SMIC | 61% of SMIC* | 100% of SMIC* |
| 3rd year | 67% of SMIC | 78% of SMIC* | 100% of SMIC* |
* The collective agreement applied in the company or the agreement of the parties may provide for more favourable provisions in terms of remuneration.
The collective agreement applied in the company or the agreement between the parties may provide for more favourable provisions in terms of pay.
To carry out an assisted simulation of the calculation of the legal remuneration, consult the work-linked training portal:
All apprentice-engineers benefit from a minimum of 12 weeks' experience abroad in accordance with CTI recommendations. 
8 weeks minimum in an international company
4 academic weeks in England.
Objectives of the program
The specific skills of the ENSAIT engineer
To be an apprentice engineer at ENSAIT is to benefit from the environment of a major public engineering school, from research at the cutting edge of innovation, from a close relationship with companies and foreign partners.
Recognise the basic textile processes and situate them in the textile production chain (actors, materials, relative costs).
Recognise the basic textile structures, their treatments and their assembly, differentiate and classify them
To know, measure and characterise the properties of basic textiles
Define the requirements for the reproduction of a basic textile product
 To analyse an existing product and describe all the stages of its production
Relate the basic textile properties to their structure and/or process and vice versa. Example: choose the right materials according to the properties required.
Associate textile products and processes with their application context (functional specifications)
Integrate eco-design
Work-study schedule: 5 weeks in a company 5 weeks at ENSAIT
Regular monitoring of studies in the company is ensured by a company tutor and a university tutor who is a teacher or research professor at the school.
Each year of study will see the acquisition of skills sought after by companies and the professional world.
30 weeks in a company – Mission: Technician
Integration into the company
The apprentice engineer discovers how a company operates. Theoretical training at the school gradually makes him/her operational to participate in projects or missions of the company.
21 weeks of full-time study
30 weeks in a company – Mission: Assistant engineer
Involvement in projects
The apprentice engineer progressively acquires technical and managerial skills to lead small projects or to assist his/her engineering colleagues.
15 weeks of full-time study
TOEIC test (minimum score: 830 points)
30 weeks in a company – Mission: Engineer
End of study project
The apprentice engineer is autonomous and is in a position to carry out a final study project over a minimum period of 18 weeks. 
19 weeks of full-time study
Further study after the textile engineering degree
To join ENSAIT's work-study program, the process is twofold:
1 - Apply for admission to ENSAIT
The entrance exam for the ENSAIT work-study program is a competitive exam for students who have
holders of an international scientific or technological diploma at Bachelor level
holders of a DUT/BUT in scientific and technological specialties
holders of a licence 2 in science and technology
from any scientific CPGE (including ATS, MP, PC, PSI, PT, TSI, TB, BCPST, TPC)
holders of a BTS in scientific or technological specialties
42 places disponibles pour la rentrée 2023
2 - Contact companies in order to be recruited as an apprentice engineer for a 3-year contract
The process is that of any person wishing to be recruited by a company:
Respond to job offers
Present yourself spontaneously to companies
Use networks: alumni, social networks on the Internet : Linkedin, Viadeo, …
How does ENSAIT help you find a work-study contract?
or send your CV to apprentissage@ensait.fr 
(file name: Last_Name)
The professions of the textile engineer
textile laboratory manager